Pamper Your Dog at Rover Retreat
Our staff at the Rover Retreat Dog Spa will make your dog the envy of the neighborhood! Our dog bathing facility in Golden, CO offers all the luxuries you expect from a human spa. Whether your pup needs a clean up after a day of fun in our stimulating dog daycare, or just pampering, your pet is guaranteed to look amazing after a luxurious day at our spa. We'll make your pet look fabulous!

Dog  Spa Services
Our Premium Bath Service at Rover Retreat includes ear cleaning, brushing, a bath with your choice of our scented (or unscented) shampoos, a conditioner treatment, a blow dry, and a nail trim. We also offer a Basic Bath Service that includes a bath with your choice of our scented (or unscented) shampoos and a towel dry. Whichever service you choose, our experienced staff will treat your dog with the care and love that he/she deserves.  Services can also be purchased a la carte.  Give us a call for more information.
Benefits of Regular Dog Bathing & Care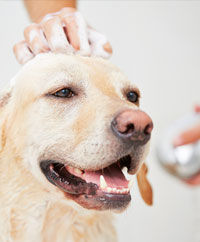 Regular dog bathing and care is essential to the health and well-being of your pet.  These benefits include:
Leads to less shedding, healthy skin, and a healthy coat
Removes the stress of having to lift and struggle at home getting your dog into the bathtub
Trimmed nails are safer for your pet and you, and easier on your floors
Extra hair/fur can matt and reduce contact to the air and trap moisture
Properly cleaned ears hear and feel better
Thorough cleaning and brushing promotes healthy hair and scalp
Trained eyes spot potential health risks before they become major complications
Rates start as low as $20.00. Please see our pricing for more information.

Rover Retreat Dog Spa Hours
---
Monday – Friday


7 am – 12 pm


2 pm – 7 pm
CLOSED for Naptime


12 pm – 2 pm
---
Weekends & Holidays


7 am – 10 am


4 pm – 7 pm
CLOSED for Naptime


10 am – 4 pm